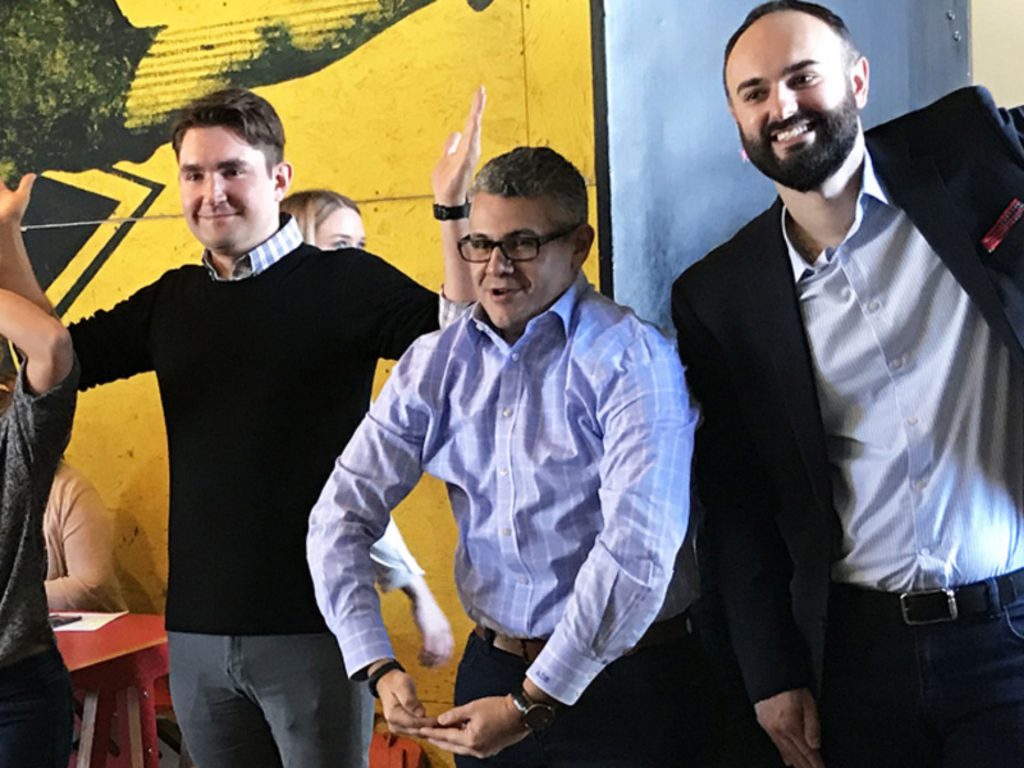 COLLABORATE AS A TEAM AND PUT YOUR TRIVIA BRAIN TO THE TEST AS YOU COMPLETE GAME SHOW-STYLE CHALLENGES
Looking to truly connect with your colleagues in Kingston? The indoor activity, Game Show Extravaganza, is a fun, high-energy team building event that encourages communication, collaboration, and teamwork.
With Game Show Extravaganza, your group will break out into teams and go head-to-head in game show-style competition that will test their trivia knowledge about everything from pop culture to politics, geography, sports, history, and more!
Teams will compete in timed video and trivia challenges, earning points for each one completed correctly. Each team will need to tap into the interests, knowledge, and strengths of its respective members in order to correctly answer all questions. Teams will play in five rounds of trivia, earning points for each completed challenge.
If you're interested in a fun indoor team building activity in Kingston that can help you and your colleagues put their heads together, collaborate, and communicate, all while getting to know each other even better, then you will love Game Show Extravaganza!
Game Show Extravaganza will help participants in Kingston:
Collaborate more effectively
Work cohesively
Get to know each other's interests, passions, and strengths
Communicate under pressure
Enhance problem solving skills
Have fun outside their comfort zone
How It Works
Stage One: Your group will split into teams, each of which will come up with their own original team name. Then, your entire group will get to know each other even better as teams introduce themselves to one another, sharing fun facts, quick quips, and interesting things about each team member.
Stage Two: Teams go head-to-head in a game show-style trivia competition, working collaboratively to tackle challenges covering topics ranging from pop culture to sports, history, geography, and much more. Teams compete in five rounds of trivia challenges, each more difficult than the last, earning points for each one they complete successfully.
Stage Three: Once the five rounds of trivia are complete, the team that has accumulated the most points will be crowned the Game Show Extravaganza Champions!
Check out our video introduction to our smartphone app:
WE CAN RUN THIS EVENT ANYWHERE, IN ANY TIME FRAME, FOR ANY GROUP SIZE
One of the coolest benefits of this event is it can be run anywhere! This is perfect for companies with offices spread out across the country or even around the world. Wherever people are participating, we recommend you finish with some post-event storytelling and winner recognition.
This activity is completely flexible when it comes to time and place. Looking for something fun to do in a compressed time like a lunch hour or conference break? We can make that work too.
And yes, like almost all our team building activities, this event is completely scalable for large groups of any size. This particular activity is maybe the world's best solution for scaling up for groups of 1,000, 5,000, 10,000 or more!
Your investment includes:
Full-service Game Show Extravaganza event package
Complete pre-program communication, including liaising with venue (we can help you source many hotels, resorts and venues in Kingston)
On-site professional event leader and friendly event hosts
Everything needed for the activity, including all materials and specialty items
Collaborative debrief
Delivery, set up, management, and break down of event
Keep in mind that for really large groups with tight budgets, we're fantastic at coming up with a solution that works for everyone!

How much does this event cost?
Self-Guided Smartphone Powered Events
If you would like to run this activity yourself, pricing for the majority of groups we work with ranges from $9 to $31 per person, with a minimum spend of $395. For larger groups we'll be as flexible as possible to work within your budget. Pricing does not include any venue or location rental fees.
Virtually-Hosted Events (Ideal for Remote Teams)
Get a hosted event experience, without the cost of having an in-person host. With virtually-hosted events, your host will leverage a video conferencing tool & our proprietary web app to run a hosted event for your teams. This is an ideal solution for remote teams. Prices range from $12 to $50 per person with a minimum total investment of $995.
Hosted Smartphone Powered Events
If you would like our team to be on-site to run this activity for you and your group, pricing for the majority of groups we work with ranges from $40 to $125 per person. For smaller groups, we do have a minimum total investment level of $3,995. For larger groups, we'll be as flexible as possible to work within your budget. Pricing does not include any venue or location rental fees.